I made it to Part 5! Yay!
Now your room is complete!
Step back and admire all your hard work that you've put in to it. You deserve it!
Again if you've missed any of this series here they are right at your fingertips:
Part 4
Lighting, Pillows, Area Rugs, Paint
And Part 5 is…
**Window Treatments**
Now I know some of you might be thinking, "Window treatments?" Really! So predictable!
But you would be surprised at how this is a forgotten aspect to a room. Maybe you've been there yourself. You know, you just throw something up to the window so the neighbors won't see you walking around neekid…I mean in your P.J.'S
Next to paint it's the most important feature of your space. Flooring is also very important, but I was looking for easy, and affordable changes or additions you can make.
On to my favs!
**************
Plantation Shutters
Tropical Living Room
by
Other Metro Interior Designers & Decorators
Baysix Design
Shutters are more of an investment. But we've bought them from Lowes or Home Depot and installed them ourselves. In fact the shutters that are in my living room, my husband installed them himself probably 15 yrs. ago! So I'm pretty sure we've gotten our money out of them. Another plus about shutters is they look great from the outside of your home. It's important to present a uniform look from the street.

Bamboo Blinds
Eclectic Living Room
by
Providence Interior Designers & Decorators
Kate Jackson Design
Bamboo blinds have a very organic and casual feel to them. They let in diffused light, so you can still see the world outside. You can buy privacy liners for them if the above methods of walking around is going on! No judging!
Curtains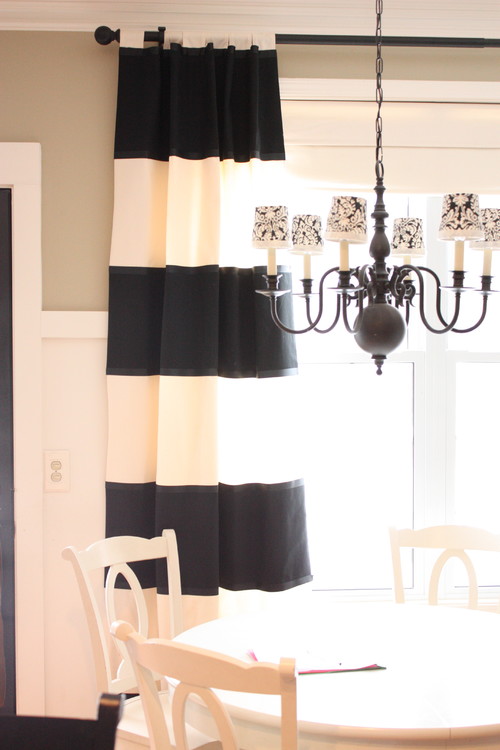 Traditional Family Room
by
Detroit Interior Designers & Decorators
The Yellow Cape Cod
Curtains are an inexpensive way to add drama and flair to your windows. Combining curtains with shutters or bamboo blinds is my favorite way to style a window. (Example above) They bring in color and mood and tie the whole room up like a pretty little bow.
Make sure you hang your curtains to the ceiling to give your room the height it deserves. Making sure they fall nicely. You can choose to puddle or not puddle. I personally love a little puddling!
I hope this has helped some of you that are just starting out in new homes, or just making some changes in your existing homes.
Happy Weekend!