Hope you had a great weekend! We worked on some last minute touches of our guest room (empty nest) so w
e're
getting closer to it
being completed! The wood floors are being installed today and hopefully if there are no floors problems it will be done today!
I ordered a daybed and it should be here Friday. So the following week I should have a reveal ready! So happy! It hasn't been a huge deal, but sometimes you're just ready for a project to be done.
But, in planning out this room I began thinking about lighting. Actually, I always think about lighting when I'm decorating a room. Because I think it's really what makes or breaks a room!
I remember when we added the recessed lights in the ceiling to our master bedroom, it was like someone had windex-ed everything! It made everything just sparkle!
This is a l
ittle exaggeration!
Here's a breakdown on lighting~Room by Room
1.
Living Room-
This is where you want to showcase all your pretties. Focus your light on your art, bookcases, maybe a pretty little vignette that you've created. A good rule of thumb is you should light 3 of the 4 corners of the room. I love to use up lights that sit on the floor in the corners behind your furniture. It really makes the corners POP!! They're inexpensive, maybe $10-$15.
Also use a combination of table lamps and maybe even a floor lamp, to give you light at different levels. It's a good idea to have a couple of good reading areas that have a down-glowing light on a 3-way switch. If you use an overhead fixture or recessed lights in the ceiling, put it on a dimmer
.
2. Dining Room-

The dining room table should be of course your focal point, with a beautiful chandelier or pendant above your table. Also, these should be on a dimmer for a beautiful intimate dinner. If you have a side board or buffet a pair of small table lamps or even matching sconces on the wall above would be stunning at night. You want the atmosphere to be flattering and relaxing.
3. Kitchen-

This is where all the action takes place! So you need great task lighting. Great overhead lighting that you can turn up (again on a dimmer) when you're creating all those fabulous meals is a must. Also, under cabinet lighting and pendants for all your work surfaces is very helpful in being able to see what you're doing!
4. Bedroom-

I mean this is where all the action really takes place… Sorry! Just my sense of humor. Disregard if you're offended. Continuing on with the tips.
This is where you want to aim for a cozy, intimate and most of all flattering lighting atmosphere. Reading lamps or sconces (that's what we have) by the bed. I love the sconces because it frees up your nightstand space. I know some people love a ceiling fan in their bedroom, but I love a chandelier (again on a dimmer) It's so beautiful at night. On a low table in another corner, have a small intimate lamp with a tinted low-wattage bulb to mimic candlelight.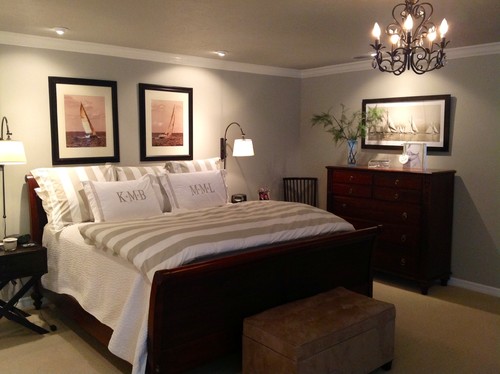 Source- The nest at The Daily Nest
5. Bathroom-

As in the kitchen you need task light for a bathroom. The best choice for applying makeup, shaving, tweezing whatever you need to tweeze (I don't want to know!) are sidelights or a pair of sconces on either side of the mirror is the best. A good overhead light for helping fill in any shadows on your face and helps when you're cleaning the bathroom. Also, a light directly over the shower is great too.
So those are my tips to light your way to a beautiful room!
I hope you
found them helpful!
Remember it's as easy as

1-2-3

to comment now! So just do it!!
I love reading your comments!!